Jeero makes it very easy to import your Chaplin films into The Events Calendar. No more copy-pasting but always up-to-date information on your website, including full descriptions, categories and prices.
Chaplin by Nutid AB is a ticketing solution for Swedish cinemas.
The Events Calendar is the most popular calendar plugin for WordPress with over 800,000 active users.
In this guide, you will connect your WordPress website to Chaplin. Next, you will sync your films with the The Events Calendar plugin. When completed, you will have a website for your organisation with an always up-to-date overview of your films, including full descriptions, categories and prices.
Prerequisites
Make sure you have a working WordPress website.

Ask you Chaplin contact for your Chaplin API base URL.

Ask Chaplin to whitelist Jeero's IP address: 54.228.32.150.
Step 1 – Install The Events Calendar
Go to Plugins → Add new in the WordPress admin.
Look for 'the events calendar'.


Install and activate The Events Calendar plugin.
You now have a new Events menu-item in the WordPress admin:
Step 2 – Install Jeero
Go to Plugins → Add new in the WordPress admin.
Look for 'jeero'.

Install and activate the Jeero plugin.
Step 3 – Start the sync
Chaplin imports to The Events Calendar are currently only available upon request. Please contact me for further instruction.
Step 4 – Show your events on your website
The Events Calendar automatically adds a page to your website with an overview of all your films. The exact URL of this page can be found like this:
Go to Events → Settings in the WordPress admin.
Stay on the General tab and scroll down to the Events URL slug field.
In the instruction below the field you can find the URL:

Click on the link.
You now see a beautiful overview with films, including a datepicker, keyword search and different view options: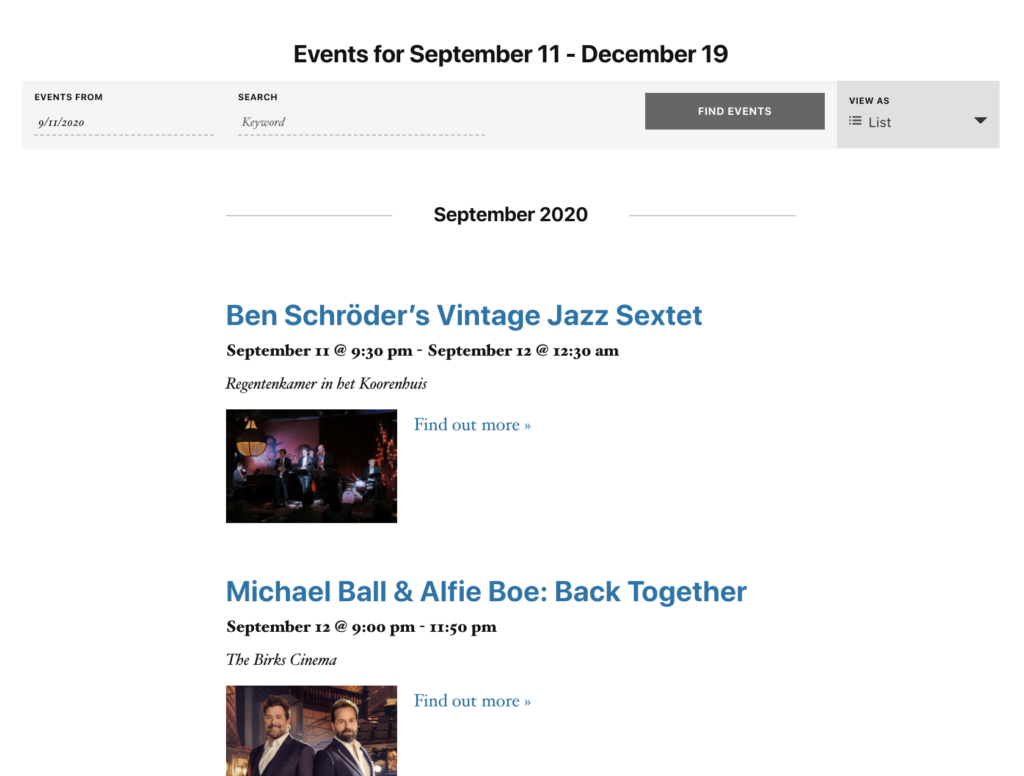 Step 5 – Choose the right plan
The free plan for Jeero lets you sync up to 10 upcoming films at any given time. Perfect for small organisations and testing purposes.
Does your organisation have more films?
Paid plans start at € 25/mo or € 240/yr. Please contact me for information about one of the paid plans.
Conclusion
In this tutorial you learned how to connect The Events Calendar to Chaplin and automatically publish all your films on your WordPress website. Jeero takes care of the sync between the two and keeps you from manually copy-pasting all the film-details after every update.
Please check out the Getting Started Guide of The Events Calendar to get an in-depth view of all the settings and features.
I hope this guide was useful to you. If you need any more information, don't hesitate to contact me . I am also curious to know if there are any ticketing solutions or calendar plugins that I should add.